WHAT'S THE MOST EXTREME CBT TOYS IN THE MARKET?
While fetish play has become increasingly popular among many people, searching for extreme CBT toys that cater to your wildest fantasies can be challenging. If you're a beginner in the kink scene, you may want to hold onto something as we introduce you to a new world of possibilities. For those who are experienced in BDSM play, get ready to learn more about this category of sex toys
Before delving into the topic of the most extreme CBT toys on the market, it's important to understand some basics about these BDSM gears.
WHAT IS AN EXTREME CBT TOY? 
An extreme CBT toy is a device designed for the sexual practice of inflicting discomfort on the penis and testicles during BDSM play. The scrotum and penis contain a high concentration of nerve endings, making them highly sensitive to stimulation. Extreme CBT toys are often used to increase sensitivity and heighten sexual pleasure for those who enjoy this type of play. It's important to note that these toys should only be used safely and consensually between informed and consenting adults. Proper communication and understanding of the risks involved are essential when exploring extreme CBT play.
BEST MATERIALS FOR EXTREME SEX TOYS

CBT toys are available in various materials, and for those new to this type of play, it's recommended to start with lighter options. Silicone-based tools like ball stretchers and penis chokers can be a good starting point as they gently constrain the genitals. These toys are typically made of non-toxic, phthalate-free silicone, making them safe to use.

As you become more comfortable and experienced in CBT play, you can explore more advanced and extreme CBT toys made from materials like leather, stainless steel, and plastic. These materials provide durability, stability, safety, and convenience for the user.

For those seeking a more intense experience, metal-based CBT devices can be an option to consider. However, it's crucial to remember that these toys are recommended for experienced individuals due to their weight and complexity. As with any type of BDSM play, safety and communication with your partner are essential when using extreme CBT toys.
 Trust you're ready to explore some extreme CBT toys, we've compiled a list of eight options that are popular in the market and sure to provide intense sensations during BDSM play. Keep in mind that these toys should only be used safely and consensually between informed and consenting adults. Here are the eight most extreme CBT toys:

1.ADJUSTABLE SPIKED GLANS RING
This CBT toy is a spiked glans ring with various diameter sizes of 1.1"/28mm, 1.18"/30mm, or 1.25"/32 mm and a height of 0.75 inches/19.5 mm. It's designed with six adjustable spikes that can be tightened or loosened to suit personal pain preferences and ensure controlled phallus torture during BDSM play, whether solo or with a partner.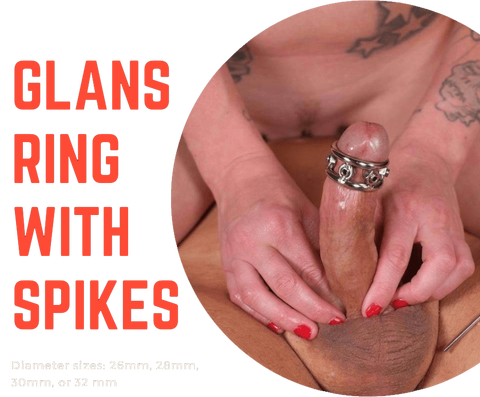 The spikes on this extreme CBT toy are designed to dig into the skin and provide a pleasurable sensation of pain, which is perfect for those who enjoy the sensation. As you tighten the ring on your penis, the spikes become firmer, making the experience even more intense.
2. KALI'S TEETH - CBT BRACELET
The Kali's Teeth Bracelet is an extreme CBT toy that functions as an anti-erection and anti-masturbation device. It features two rows of numerous teeth that the skin rests on and gets caught in between the small gaps. It's adaptable to all penis sizes and appears harmless when left alone. However, once the slave gets aroused or tries to remove it, the bracelet bites back, creating an intense sensation that teaches the sub how to control their arousal.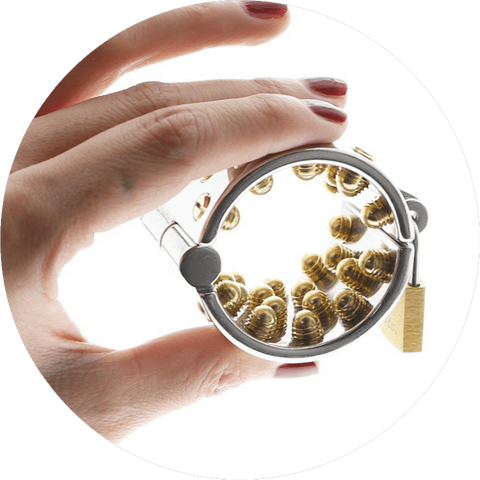 This CBT toy is small, lightweight, and highly discreet, making it possible to wear beneath clothing without drawing attention. The sensation it creates is unique and unmatched, which is perfect for those looking for extreme experiences during BDSM play.
For those who are new to CBT play, it's recommended to start slow and steady to fully appreciate the unique sensations of scrotum torment. The Ball Squeezer is a perfect toy to try out for beginners, as it gives you or your partner complete control over the pressure on your balls.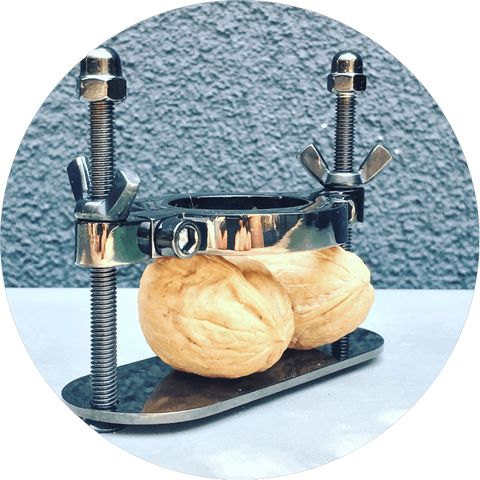 This CBT device is designed to lock your sack in place and features adjustable screws that can be twisted to achieve the perfect squeeze. With the Ball Squeezer, you can experiment with the pressure on your balls to find the perfect level of discomfort that suits your pain threshold.
 The humbler device is designed to humiliate and punish male subs by bending them over and locking their balls in place. If the sub tries to stand up, the tugging on the balls only intensifies, making it impossible to stand upright.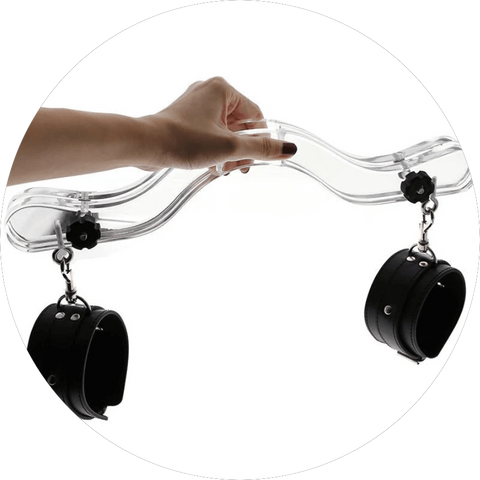 This CBT toy is meant for use in couple play only and is a perfect tool for male sub punishment.

5. ADJUSTABLE SPIKES CHASTITY
This CBT toy is a perfect combination of a chastity device and the Kali's Teeth Bracelet, also known as the 'flower of thorns'. It may be small, but it packs a punch. The screws can be tightened down one at a time to tease your sub's glands and take him to cloud nine. If your sub manages to orgasm through the screws, great. But if not, you better be prepared for what comes next when you let him out, unless you enjoy the sight of his cum all over you.

6. BALL CRUSHER 

This CBT toy is designed for applying pressure to either the cock and balls or just the balls. It features two plates made of durable acrylic material, each measuring 5 inches in width and 7 inches in length. The back hole allows for both the cock and balls to be inserted, and the wingnuts can be screwed to apply the desired level of pressure. Alternatively, if you want to crush just the dick, simply slip it through the cock hole on the other board. The ball hole measures 2 inches in diameter, while the cock hole measures 1.6 inches in diameter.

7. Penis Pillory
This device holds the penis in place, with the wearer's hands bound to prevent any movement.

8. E-Stim CBT toys
These toys use electrical stimulation to provide intense sensations to the genitals, providing both pleasure and pain.